SPRACHCAFFE – English language camp in Malta
(for children aged 13-17)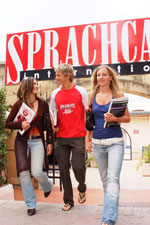 Sprachcaffe International Languages Plus founded in 1983 is one of the most popular language schools in Malta for youth. It is included in Sprachcaffe chain company with affiliates all around the world. The head office is located in Germany, but the affiliated companies can be found in France, Great Britain, Italy, Spain, Canada, USA, Australia, China, Morocco, Cuba and Malta.


Malta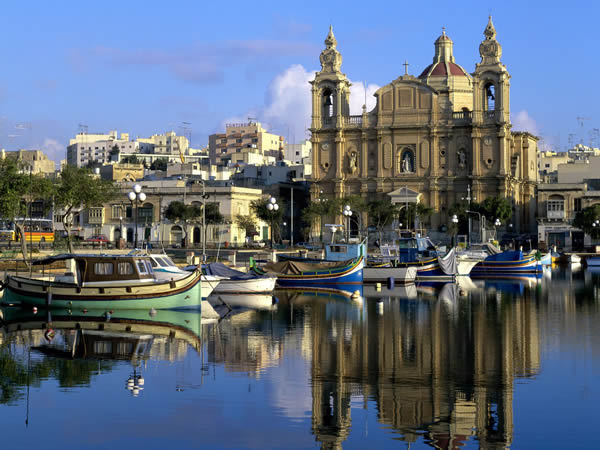 Would you like to study English and relax at a resort of Mediterranean Sea? In this case Malta, a small, sunny island in the South of Europe, is an ideal destination place. It is a resort with warm climate and crystal clear sea, plus you will have a chance to obtain the English language. English is an official language in Malta, therefore, it will be very easy for you to find yourself in the English speaking environment. Of course, people who live there have an accent, however, it is an advantage for those who have just started their studies as it is much easier to understand the local people as if you were, for example, in England, not even mentioning Scotland or Wells. Safety on the island is on a high level, which is extremely important if consider youth language camps.
Studies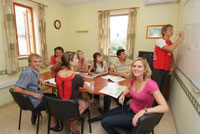 Throughout the years Sprachcaffe International has developed a special method for teaching languages, which turns the whole study process more interesting and more effective. The ambiance during the classes is always friendly and full of enjoyment where there is no place neither for stress nor tension. Studies are held in 5 levels starting from beginner up to advanced one. On the first day after passing the language placement test, accordingly to their level of knowledge students are arranged into groups, where active, experienced and professional tutors will help students during the study process.
Sprachcaffe ST. JULIANS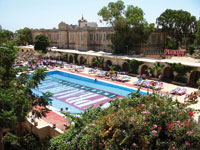 Sprachcaffe school in Malta is located in St. Julians town. In comparison to other schools teaching English, Sprachcaffe school is situated in unique place. The school building is built in Greek style in the 19th century and it is surrounded by spacious gardens. There was a beautiful pool built nowadays, which makes the school even more attractive. The school premises are very modern, students can use internet and relax near the pool or play the volleyball on the beach, which are the good ways to practice communication skills. The residences offered by school are made very cosy. Spare time can be dedicated either for fascinating excursions, diving, swimming in the sea and sunbathing, but in the evenings students are welcome to taste different cuisines, have BBQ and attend theatre performances. The pleasant and cosy ambiance of school allows students to feel like home and the same time obtain the English language and have fun with peers form other countries.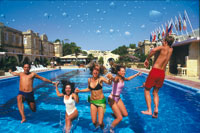 The most amazing thing is that Sprachcaffe school is much more attactive in reality than in brochure photos. The living conditions in a host family (if a student does not choose the school residence) are pretty chic as well. The houses are spacious and hospitable Malteses will charm you easily. Everyone can feel very safe on the island – the owners can even leave the house key simply under the entrance rug.
Sprachcaffe ST. PAUL'S BAY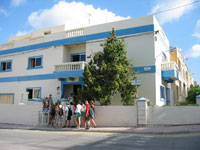 During summer the participants of U20 programme (13-17 years old) are offered to study English at Sprachcaffe school in Budgiba, St. Paul's Bay, which is famous for its homelike and joyful atmosphere. The school, which is conveniently located near town centre and just minutes from the beach, is equipped with nine modern and spacious classrooms. During the spare time students are offered the opportunity to participate in numerous excursions and various entertainment programmes.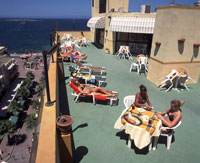 Students are accommodated at the hotel Primera (3*), which is ony 2 min walk from the beach and the central Budgiba town square. There are different shops, caraoke club, caffes, as well as the bus stop. The hotel rooms are equiped with TV, radio, phone, air-conditioner, ventilator and a bath room. Breakfast and dinner are served at the hotel's cozy restaurant. Plus there is a pool and a sunny terrace on the roof that has a marvelous sea view. The school personnel lives at the hotel too, thus ensuring 24 hour supervision and possibility to organize versatile entertainment programme.
What can you see in Malta?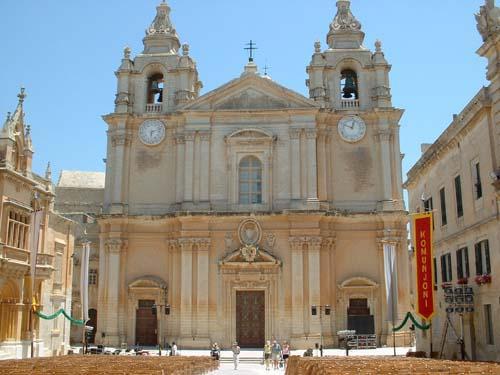 Malta is miniature and elegant and suprisingly rich with misterious histroical events, impressive arhitecture and very hospitable people. This treasure would be enough for whole Europe. There is no such place in the world where a small territory unites so many unique historical and cultural monuments of mankind. Sprachcaffe school offers its students numerous excursions. Here is the description of a few of them:
*The capital city of Malta Valeta is located in the Grand Harbour of Malta' Bay, which is considered to be
the best natural harbours in Europe.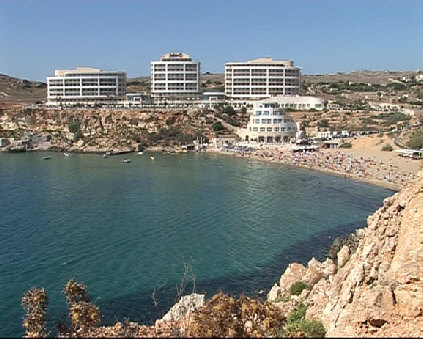 *Mdina – the previous capital city of Malta that still has kept its medieval image. You can experience a fantastic view over the island from the Mdina fort, which is called a silent town among the local people.
*Slima this is the most favourite place among tourists and local inhabitants too. Here everyone according to her or his taste can find good shopping place, a restaurant or a bar whereas the beach attracts to enjoy the refreshing breeze and beautiful view.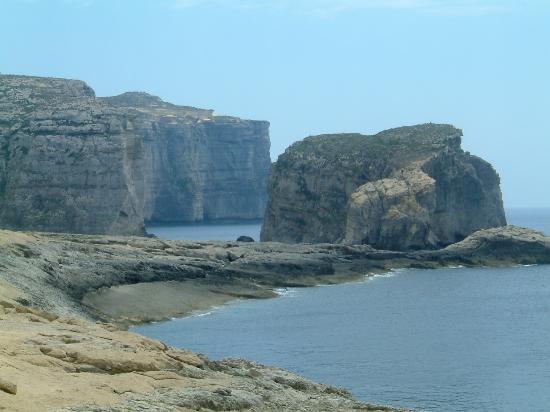 *The Golden Bay is the largest sand beach in Malta where you can rent a beach chair and lie under the sun umbrella, do water skiing or kite-surfing, go by canoe, watercycles, scooters or simply enjoy a "banana" ride, plus you can have tasty drinks and snacks at the beach caffes.
*Gozo Island charms everybody with its still nature, villages, summer cottages and baroque style churches, which greatly completes the landscape. Here you can visit around 40 significant historical and cultural monuments.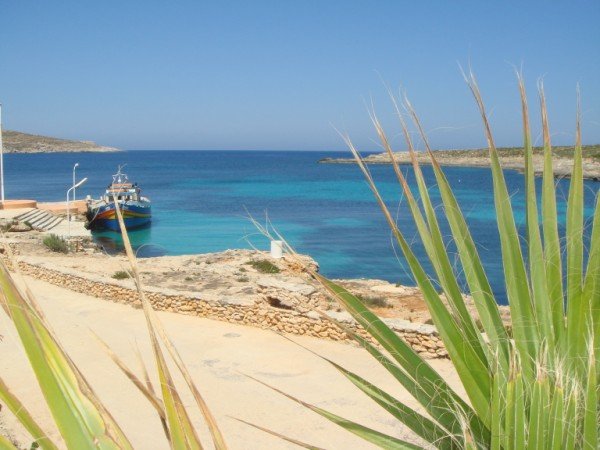 *Little Komino island – it's a paradise for diving and snorkelling. There is only a small hotel, a church and a medieval sight tower. The sea coast reveals the scenery to breathtaking lanscapes and crystal clear water in Blue Lagoon, which is a perfect place for diving in torqouise blue waters.
Rich language traditions and a possibility to communicate in English outside the class, unique cultural environment and hospitability of Maltese together with safety and wonderful climate creates confidence that Malta is the place where everyone can obtain the English language effectively and with pleasure!
Summer camps arrival dates

- Arrival dates for Sprachcaffe St. Julians (15-17 years):
12.06, 19.06, 26.06, 03.07, 10.07, 17.07, 24.07, 31.07, 07.08, 14.08, 21.08, 28.08
- Arrival dates for Sprachcaffe St. Paul's Bay (13-17 years):
26.06, 03.07, 10.07, 17.07, 24.07, 31.07, 07.08, 14.08, 21.08, 28.08
Camp fees

| | | |
| --- | --- | --- |
| ST.JULIANS (aged 15-17) | 2 weeks | 3 weeks |
| Homestay (3 bedded rooms) | EUR 885 | EUR 1340 |
| Residence (4-7 bedded rooms) | EUR 925 | EUR 1385 |
| Club Village (3 bedded rooms) | EUR 1095 | EUR 1625 |
| Club Village (2 bedded rooms) | EUR 1215 | EUR 1810 |
| Surcharge Intensive Course (30 lessons per week) | EUR 35/week | EUR 35/week |
| ST.PAUL'S BAY (aged 13-17) | 2 weeks | 3 weeks |
| Homestay (3 bedded rooms) | EUR 725 | EUR 1075 |
| Residence (3 bedded rooms) | EUR 855 | EUR 1270 |
| Surcharge Intensive Course (30 lessons per week) | EUR 35/week | EUR 35/week |
Cost includes: tuition fee (20 lessons per week/1 lesson x 45 min), accommodation, full board meal, transfer from/to the airport, educational material, animation and sport events, excursions, 24 hour control.
Extra payment: air ticket, pocket money

To find out more and sign up for a free of charge consultation, please, contact us:
Hurghada: tel. +201111733998, mob.: +201062928342, e-mail: info@linkturs.com