New Media Technology College (NMTC) is located in the capital of Ireland – Dublin. It was openeded in 2000. NMTC offers full-time courses in Film Production, Photography, Journalism, Interactive Media, Business, Computer Programming, Network Technologies, Information Technology, Music Technology and English programmes.


NMTC has won many awards including the prestigious Golden Spider and Digital Media Awards. Student films have been shown at festivals in Europe and the US. NMTC has provided high-level training programmes for international broadcasters in Eastern Europe and North Africa on behalf of the European Broadcasting Union, Geneva. In 2009, NMTC developed a new animated 3D logo for the EBU (European Broadcasting Union). This logo was broadcast to an audience of over 125 million people as part of the Eurovision Song Contest 2010.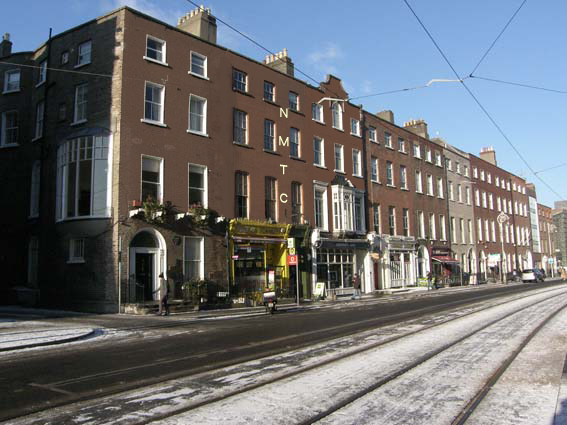 NMTC is located in a beautiful Georgian building in Dublin city centre. The College has extensive film and media production facilities including hi-def edit suites, digital darkroom, sound recording studio, photographic studio, darkroom and professional multimedia production facilities. NMTC works closely with the leading audiovisual companies and organises visits to their facilities to allow students to experience first-hand professional media environment.


NMTC
offers a career guidance service to students. The service is specifically tailored for final year students who intend to pursue specific career options or further study in their chosen field. Career Guidance Advisors regularly put students in touch with local companies who are seeking to hire graduates. Over the years,
NMTC
has been very successful in securing employment for students who have recently completed their studies. In addition to this,
NMTC
maintains a database of companies looking to hire students and interns on a part time basis during the academic year.
NMTC
career guidance ensures our graduates experience a smooth transition from academic to professional life.
NMTC provides the following career guidance services:
Information on employment vacancies advertised;
Informal one-to-one discussions and advice specific to chosen industry sector;
Guidelines for CV and cover letter preparation;
Guidelines for interviews;
Mock Interviews;
Information on degree and postgraduate courses in Ireland and abroad;
Advice on companies, both local and international.

NMTC offers the following programmes to international students:


Master degrees (2 years / 5'000 EUR per year)
Progression route: a wide range of industry positions
Applied Arts
Creative Media Production
Design
Film & Animation
Photography
Film Production and Direction
Journalism
Visual Culture
Degree programmes (3 years / 5'000 EUR per year)
Progression route: master degrees, a wide range of industry positions
BTEC Higher National Diploma programmes (2 years / 4'250 EUR per year)
Progression route: degree programmes, a wide range of industry positions
Business (Information Technology)
Creative Media Production (Computer Games Animation)
Media (Moving Image)
Media (Journalism)
Photography (Audio-visual & Photography)
3D Design
Advanced Certificate programmes (2 years / 4'000 EUR per year)
Progression route: degree programmes, a wide range of industry positions
Administration
Computer Network Technology
Film and TV Production
Management
Multimedia and Web Development
Networks and Software Systems
Photography
Strategic Customer Relationship Management
Certificate programmes (1 year / 3'950 EUR per year)
Progression route: degree programmes, a wide range of industry positions
Advanced Computer Technology
Business Studies
Computer Networks
Digital Photography
Film Production
Information Technology
Interactive Media
Music Technology
Multimedia Production
New Media Production
Performing Arts
To view the Photography Students Page of NMTC,
click here...

To view Student Films of NMTC,
click here...


To find out more about New Media Technology College, study programmes, entry requirements, admissions procedure, visa procedure and get answers to any other questions that you may have in relation to studying abroad, please, contact our offices and sign up for a free of charge consultation:


Cairo: tel. (+202) 37482460, mob.: +2 0102183700, e-mail: cairo@linkturs.com
Hurghada: tel. +2 0168838698, mob.: +2 0162928342, e-mail: info@linkturs.com