ODYSSEY - English Language Camp in Greece
(Ages 11-17)

The camp was founded in 2003. Since then students from all around the world choose the summer camp ODYSSEY due to its good reputation, effective English study programme, which includes numerous entertainment events and excursions, thus making the time spent at the camp unforgettable.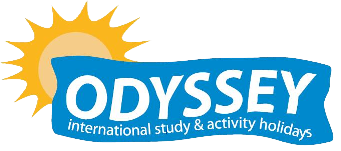 Greece is one of Europe's most alluring destinations. It is the birthplace of mythology and modern civilization, where every piece of stone has its history and legend. Where on earth you will find a combination of beautiful nature, crystal clear sea, significant antique monuments and excellent opportunity to relax on the beach? The summer camp ODYSSEY is located 175km from Athens, in a beautiful and peaceful seaside village Porto Heli. It is in Argolid area in the East of Peloponese, which is one of the most picturesque places in Greece. Porto Heli is situated in a vast bay, providing one of the safest natural harbours in Europe, it is a paradise for water sports enthusiasts. Porto Heli is also a favourite destination among wealthy Athenians.

Wonderful Mediterranean climate, sun, crystal clear sea, sandy beaches and unforgettable excursions will make your stay at the summer camp ODYSSEY full of joy to bring home great memories!
Dates of summer camp
June 26 - July 31
Arrival dates for groups: 10.07, 24.07

Cost
For groups: 1250 EUR/2 weeks
Cost includes: tuition (20 lessons per week/1 lesson x 45 min), accommodation at a hotel, full board meal, transfer from/to airport, educational material, 1 excursion and 1 cruise (per 2 weeks), animation and sport events, 24 hour supervision, an Egyptian group leader (for groups only). Extra payment: visa, air ticket, medical insurance, pocket money.

For more details on the summer camp ODYSSEY, please, click here or contact us:

Cairo: tel. (+202)37482460, mob.: +2 0102183700, e-mail: cairo@linkturs.com
Hurghada: tel. +20168838698, mob.: +20162928342, e-mail: info@linkturs.com