SPECIAL OFFER!



Book 2 weeks or more of English courses at Anglo-Continental in Bournemouth between 3 October 2011 and 23 December 2011 and bring your friend for FREE!

To qualify for this special promotion you and a friend must enrol on the same course with the same start and end dates. Your friend can study for free. The student's Course must be taken between 03 October 2011 and 23 December 2011.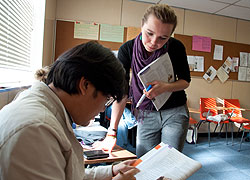 Anglo-Continental
Anglo-Continental is located in famous south seaside resort and student city – Bournemouth where it has two centres. These are within easy walking distance of Bournemouth's town centre and offer outstanding facilities for study and relaxation. Anglo-Continental study centres offer modern classrooms, language laboratories, DVD/Video equipment, sports facilities.

Programme key facts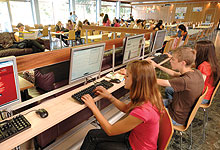 - students aged 16+
- minimum number of booked weeks - 2
- courses of 20, 25, or 30 lessons per week
(1 lesson=45 min.)
- every level from Beginner to Advanced
- multi-national classes
- constant monitoring and regular progress
tests
- homework and directed study assignments

Start dates in 2011
October 3, 10, 17, 24*, 31; November 7, 14, 21*, 28; December 5, 12
* Available for Beginners
Arrival & departure on Sunday

Course fees
Course fee includes enrolment fee, all textbooks, educational materials.


No.
of weeks
20 lessons/week
GBP
25 lessins/week
GBP
30 lessons/week
GBP
2 weeks
460
520
580
3 weeks
640
730
820
4 weeks
820
940
1060
5 weeks
1000
1150
1300
6 weeks
1180
1360
1540
7 weeks
1360
1570
1780
8 weeks
1540
1780
2020
9 weeks
1720
1990
2260
10 weeks
1900
2200
2500
+ week
150
165
180

Accommodation
Accommodation is offered in host families in single rooms with shared shower or bathroom and toilet facilities, laundry and half-board (breakfast and dinner Monday-Friday and 3 meals on weekends). Cost: first week – 150 GBP, each additional week – 100 GBP.

Additional expenses
Return flight ticket, pocket money, visa fees, insurance

To find out more and book the course, please, contact us:
Cairo: tel. (+202) 37482460, mob.: +2 0102183700, e-mail: cairo@linkturs.com
Hurghada: tel. +2 0168838698, mob.: +2 0162928342, e-mail: info@linkturs.com

Watch the video on Anglo-Continental