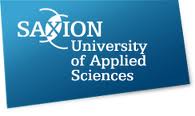 Saxion University of Applied Sciences is located in the east of the Netherlands on three campuses, in the lively cities of Deventer, Enschede and Apeldoorn.
Education at Saxion is centred on helping students to develop professional competence. As a university of applied sciences, Saxion places great value on practical skills and applied research. Therefore, students will be involved in various forms of learning during yor studies and will often work in small teams on real-life projects. Most of our programmes include a 1-semester (5-month) internship at a company either within or outside of the Netherlands, and students will do your graduation assignment at a company as well. This is excellent preparation for future.

All campuses are fully equipped to support learning process. From campus-wide wireless internet to quiet places to study - Saxion campuses have it all! Every School has its own learning resource centre equipped with computers and rooms for working on projects with fellow students. Also, students on creative programmes have access to fully equipped sound and film studios.
Tuition fees and Living expenses
Preparatory programmes

– € 7,800/per year

Bachelor degree programmes

- € 7,800/per year

Master degree programmes

- € 8,900/per year

MBA programme

- € 11,000/per year

Visa and residence permit

- € 350

Housing

- € 4900/per year
4 year Bachelor programmes in English
Applied Computer Science

Art & Technology

Business Information Technology

Electrical & Electronic Engineering

Fashion & Textile Technologies

Game Design & Production

Game Engineering

Hotel Management

International Business & Management Studies

International Finance & Accounting

International Human Resource Management

IT Service Management

Physiotherapy

Software Engineering

Tourism Management
Preparatory programmes
Preparatory Year

Preparatory Intensive

Preparatory Semester

Preparatory Short Track
Master Facility & Real Estate Management

Master in Applied Nanotechnology

Master in Business Administration (MBA)

Master in Management (MA)
A secondary education diploma with higher education entrance qualifications.

A good command of the English language.Your English level should be equivalent to an IELTS (International English Language Testing System) score of 6.0.

Hurghada: tel. +201111733998, mob.: +201062928342, e-mail: info@linkturs.com