Number 1 London modern university for graduate starting salaries according to Sunday Times League Table 2016.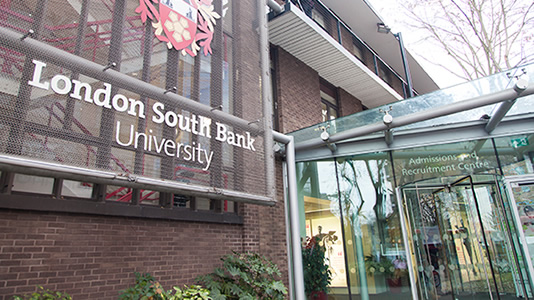 Located minutes from the centre of London, LSBU has been preparing and developing students for their working lives for over 120 years. Here at LSBU we put our students first and almost 2,000 International students from over 130 countries have chosen this University.
Reasons to choose studies at London South Bank University (LSBU):
Location - London is one of the most exciting cities in the world, and an incredible place to study. London South Bank University is based on an integrated campus just 10 minutes' walk from the city's business and cultural centres, as well as mainline rail stations Waterloo and London Bridge.
Excellent industry partnership – London South Bank University is committed to give to students the best opportunities and education possible. Students benefit from industry leaders as guest lecturers and the chance to carry out work placements on some courses. Students of London South Bank University are successful in securing internships and graduate placements with market leaders, such as Goldman Sachs, KPMG and Ogilvy.
Outstanding student support and facilities - Courses at LSBU are supported by excellent facilities. Students will find first-class technology and expert support. Laboratories, workshops, media centre, theatre, library and Learning Resources Centre – its all there.
Accredited courses - All courses at LSBU are accredited by or developed in partnership with the leading professional bodies.
Cutting-edge research – Schools at LSBU are involved in a wide range of research projects, many involving collaborations with business or public bodies, tackling some of today's most testing issues. The university shares the research in the classroom as case studies. LSBU brings in experts as guest speakers, and lecturers.
International collaborations - LSBU has extensive, long-term and substantial collaborations with respected higher education institutions throughout the world in countries such as China, USA, Brazil, India and Thailand.
Following LSBU faculties offer a wide range of undergraduate and postgraduate programmes:
School of Applied Sciences
School of Arts and Creative Industries
School of the Built Environment and Architecture
School of Business
School of Engineering
School of Health and Social Care
School of Law and Social Science
Tuition fees for international students:
Undergraduate programs – starting from 11 600 GBP/per year
Postgraduate programs – starting from 11 600 GBP/per year
Accommodation
LSBU has four halls of residence, giving students a safe and comfortable base. The furthest away from Southwark campus is a 10-minute walk away from all its amenities, leaving students always feeling close to home. Residences have good public transport connections, whether travelling by bus, train or London Underground. International students attending LSBU for the first time are guaranteed accommodation if they meet the allocation criteria and apply to Accommodation Office by 1 August.
For more information on entry requirements and programs offered at London South Bank University, please contact us – info@linkturs.com.